Ohmiword, this has been one of the worst weekends E.V.E.R!!!!
At 1AM on Saturday, Coop started coughing and the next thing I heard was vomitting. He choked on the ick he was coughing up. Nothing can wake you up like cleaning up a crying toddler and a crib can. The little guy was wide awake then. We read for an hour, that's right...my lil' guy who is near two will sit for an hour just listening to me read. I left his room and he refused to sleep. Around 2:30, I brought him into my bed for the first time since I brought him home from the hospital. He slept for an hour. I then woke to him "meowing" at my face, LOL. I proceded to sing every song I know for close to 45 minutes.
He choked and vomitted twice after that. Off to the doctor we went. On our way, I got the chills and a fever, ugh! He has a sinus infection. Fortunately, he is in fine spirits :0) On our way home, Coop started saying "uh oh" and the next thing I knew...vomit, E.V.E.R.Y.W.H.E.R.E. Yuck, yuck, yuck!
We're re-cooping. Today was a day of play, cuddles, songs, and lots of books...plus some wild weather here in the burbs of Chicago.
After finishing up my report cards, I decided to revamp my beginning sound sight word decoder puzzles. Originally, I had only made a handful, but my kiddos have always loved them! So, I remade them and included 38 sight words. Words that are included are: the, to, and, you, it, in, said, for, up, look, is, we, go, little, down, can, see, not, one, my, me, big, come, blue, red, where, jump, away, here, help, make, yellow, two, play, run, find, three, funny. Students take the laminated cards and use a dry erase marker to write the beginning sound of each picture. After writing each beginning sound, a sight word is revealed!
They're laminated and ready to go! Click the pic to purchase.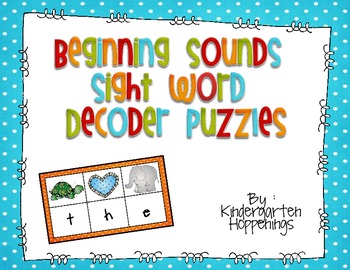 Here's hoping our week is less eventful than our weekend!
Shannon